REGISTERING COPYRIGHT OF COMPUTER SOFTWARE
Computer software is an object protected by Vietnamese law on copyright. Software is protected from the moment it is created in a certain material form and original. Originality means that the software was created by the author.
In the event of a dispute, the computer software copyright registration certificate is the most persuasive evidence of the author's ownership over other parties. At the same time, the author is entitled to have the right to exploit and use this computer software. Therefore, Doanh Tri Law Firm would like to introduce the topic "Registering copyright of computer software".
I. Applications for registration of copyright of computer software or related rights
An application for registration of copyright of computer software or related rights shall comprise:
1. A declaration for registration of copyright or related rights;
2. Statement of author and copyright owner stated by the author;
3. Guarantee of the author of the creation of the computer software in which the software commitment is created by the author himself and is not reproduced by any individual/organization;
4. Copy of identity card/passport of the author;
5. Copy of enterprise registration certificate, investment certificate, or software establishment registration decision (applicable to legal entities) or copy of people's identity card/passport / Identification card (owner is individual);
6. 02 copies on A4 Paper software content including code; the interface of the homepage, category page (if any), prints must be numbered and signed by the author/legal entity;
7. 02 CDs containing the contents of computer software including code; homepage interface, category page (if any);
8. A letter of authorization where the applicant is an authorized person;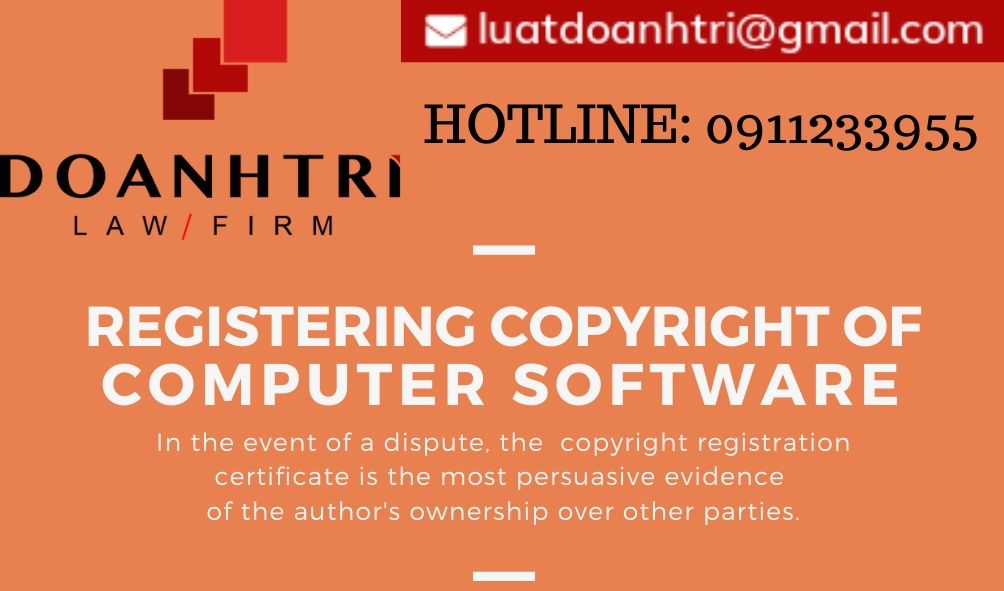 II. Competent authorities receive
Computer software is one of the objects of copyright protection. Therefore, customers will submit copyright registration documents at the Copyright Office located in Hanoi and 02 representative offices of the Copyright Office in Danang or Ho Chi Minh City.
III. Time for approval
According to the Law on Intellectual Property (Article 52), the time limit for issuing software copyright registration certificates is 15 working days from the date of a complete and valid application.
For any questions and inquiries, please contact us via:
Hotline: (+84) 911.233.955 or Email: luatdoanhtri@gmail.com.vn