PROCEDURES OF TRADEMARK REGISTRATION IN VIETNAM
Before applying for the trademark registration, the applicant needs to find out the matters relating to conditions, procedures, periods to avoid the cases that the National Office of Intellectual Property in Viet Nam (NOIP) may issue the notification on denying.
According to Law on Intellectual Property in Viet Nam signs eligible for being registered as trademarks must be visible ones in the form of letters, numerals, words, pictures, images, including three-dimensional images or their combinations, presented in one or several given colors.
I. Dossier:
To file a new trademark application in Vietnam, the following information/documents are required:
- Declaration for registration which is typed according to form No. 04-NH Appendix A of Circular No. 01/2007/TT-BKHCN;
- The application form must be enclosed with 05 identical mark specimens that satisfy the following requirements: a mark specimen must be clearly presented with the dimensions of each element of the mark ranging between 8 mm and 80 mm, and the entire mark must be presented within a marking model of 80 mm x 80 mm in size in the written declaration; For a mark involving colors, the mark specimen must be presented with the colors sought to be protected.
- Fee and charge receipts.
Other documents (if any):
- Power of attorney (in case the request is filed through a representative);
- Documents certifying the permission to use special signs (if the trademark contains emblems, flags, armorial bearings, abbreviated names or full names of Vietnamese state agencies/ organizations or international organizations, etc.);
- Paper on the assignment of the right to file an application (if any);
- Documents certifying the lawful right of registration (in case the applicant enjoys the right to file from another person);
- Documents evidencing the right of priority (if the patent application has a claim for priority right).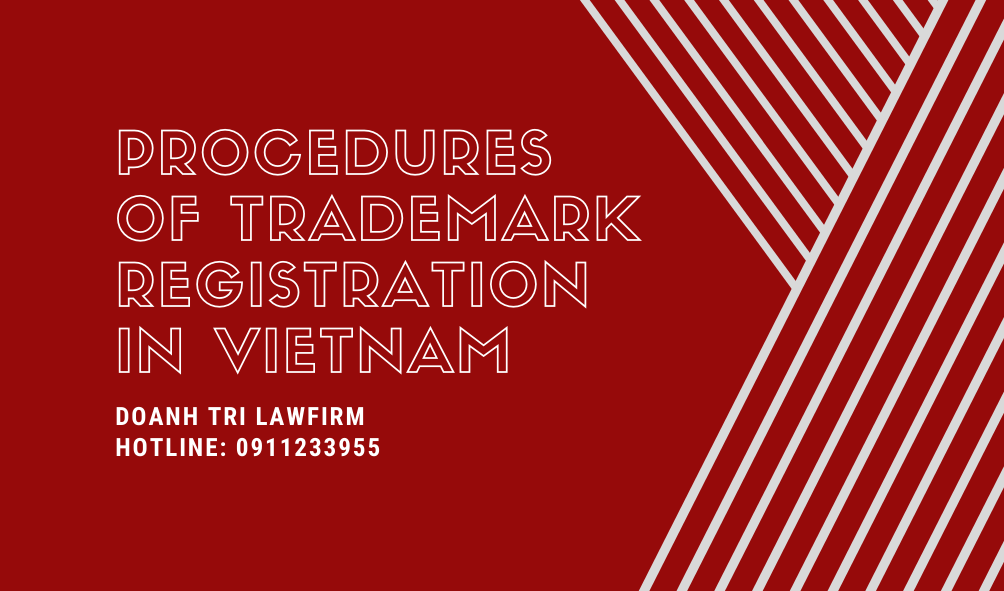 II. The time limit for processing trademark registration applications
From the date on which the registration application is received by the IPVN, the registration application of a trademark shall be examined in the following order:
- A trademark registration application shall have its formality examination within 1 month from the filing date.
- Publication of trademark registration applications: A trademark registration application shall be published within 02 months after it is accepted as a valid application;
- An industrial property registration application shall be substantively examined within 09 months from the date of application publication.
The mentioned above is the advice of Doanh Tri Law on the topic of " Procedures of Trademark Registration in Vietnam". If you want to register for protection of the trademark, please contact:
Hotline: (+84) 911.233.955
Email: luatdoanhtri@gmail.com